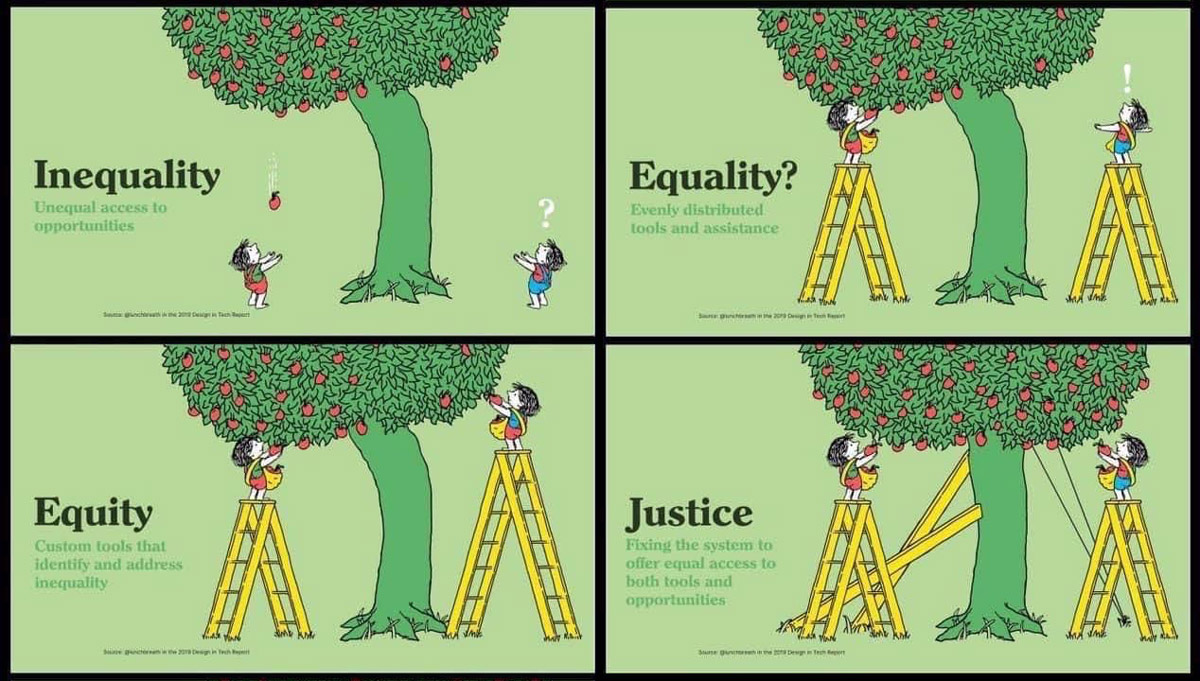 DEI+J
06.01.2022
I was inspired recently by this cartoon that not only reminded me of the differences between inequality, equality and equity but added a fourth definition, justice. There is so much talk – and dare I say lip service – paid to diversity, equity and inclusion (DEI), but left out of the action is that last piece: justice.
PBS12, then known as KBDI, was founded by a group of citizens who wanted more inclusion and diversity in the kind of programs available here in Colorado. At the time, some called their ambitions rebellious, but we like to think they were ahead of their time. Diversity, equity, inclusion, and indeed justice, are part of our DNA here.
Back in the 1980s, we aired a program called The Lambda Report, that covered the issues and ideas of the Gay community. And while we aired it back-to-back with The Rush Limbaugh Show, it was The Lambda Report that yielded bomb threats to the young station. We stood our ground.
Today, we actively curate programming, not only from PBS and other public media sources, but we partner with local filmmakers and organizations and create original content that seeks to bring diverse voices, races, genders, and experiences to our on-air and digital channels. As Martin Luther King, Jr. said, "the arc of moral history bends toward justice," but we believe it's essential that we must actively participate to speed up that arc.
In June, we're recognizing the accomplishments, history, and stories of LGBTQ+ people and the movement that is known as Pride. We're celebrating the incredible legacy and learnings of Juneteenth, the anniversary of the news of emancipation to Texan slaves, a full two years after the end of the Civil War. As part of Denver's #Juneteenth celebrations, we'll have a camera crew roaming around to capture our unique Colorado embrace of the holiday.
On our air, a couple of titles in June pop out for me:
Out in Rural America follows five stories from the LGBTQ+ community over six years, exploring the issues of self-doubt, discrimination, acceptance, and small-town and Midwestern LGBTQ+ life from a cultural, social, familial, and religious perspective.
The Long Shadow is the story of two daughters of the South, Director Frances Causey and Producer Sally Holst, who when they set out to find causes for the continuing racial divisions in the United States, discovered that the politics of slavery didn't end after the Civil War. In an astonishingly candid look at the history of anti-black racism in the United States, The Long Shadow traces the imposition of white privilege and its ultimate manifestation: slavery.
There is work to be done on teaching, accepting, and promoting diversity, equity, inclusion, and justice. PBS12 is proud to be a place where these ideas and practices find a home – bringing people together in understanding, so that as a community we can put them into action.
Respectfully,
Kristen Blessman
President & General Manager
P.S. You can find all our #Pride and #Juneteenth programming highlighted in our June primetime programming grid. As always, we welcome your support and your feedback.