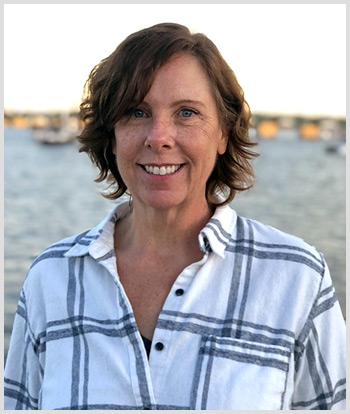 JULIE CROOK
Website Manager
---
about Julie
I was born and raised in Utah, and grew up loving anything to do with water sports, camping, and trampolines. After graduating in English from the University of Utah, I moved to Denver where I have worked for PBS12 since 1990. A telecommuting trailblazer, I have worked remotely since 1996, doing my job long-distance from Ontario, Miami, Scotland, Orlando and now St. Augustine.
---
what Julie does at PBS12
I manage all things website – writing content, creating images, designing the user experience, collaborating with programmers, and working with each department at the station to promote their projects online.
---
random things about Julie
My favorite trip was to Turkey (which was amazing).
I am a compulsive reader, although I have recently become obsessed with audiobooks.
My favorite spot on earth is Jackson Lake in the Tetons.
I love to plan and plant gardens.
My favorite mug says "I am silently correcting your grammar." My kids say the corrections aren't so silent.
I love British dramas and mysteries, British history, and spending time in the UK.
---