pop culture picks
Since the Vietnam War, films like Apocalypse Now, Platoon, and Born on the Fourth of July have become cultural icons. And during the conflict, popular rock songs became part of the Vietnam War era's zeitgeist – both for soldiers in the jungle and for protesters back home.
Check out these suggestions, vote on your favorites, and post comments!
[feedbacks]
series soundtrack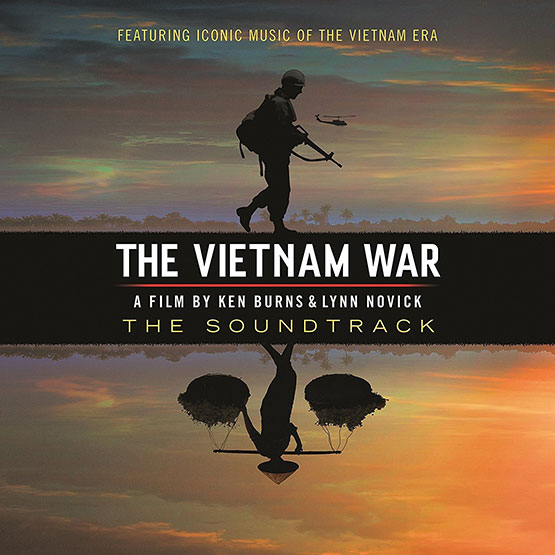 The Vietnam War: The Soundtrack includes many of the iconic songs representing the era.
Featuring 38 tracks from the 120 tunes featured in the film, the 2-CD set includes The Beatles, The Rolling Stones, Bob Dylan, Jimi Hendrix, Buffalo Springfield, Simon & Garfunkel, The Byrds, Otis Redding, The Animals, Barry McGuire, The Staple Singers, Cream and many more.
Check out the full tracklist:
Disc 1:
A Hard Rain's Gonna Fall – Bob Dylan
Hello Vietnam – Johnnie Wright
It's My Life – The Animals
Eve Of Destruction – Barry McGuire
Turn! Turn! Turn! (To Everything There Is a Season) – The Byrds
Masters of War – The Staple Singers
Mustang Sally – Wilson Pickett
Smokestack Lightning – Howlin' Wolf
Backlash Blues – Nina Simone
The Sound of Silence – Simon & Garfunkel
One Too Many Mornings – Bob Dylan
Ain't Too Proud To Beg – Temptations
Are You Experienced? – Jimi Hendrix
I'm A Man – Spencer Davis Group
Green Onions – Booker T & The MG's
Strange Brew – Cream
Waist Deep In The Big Muddy – Pete Seeger
A Whiter Shade Of Pale – Procol Harum
The Lord Is In This Place – Fairport Convention
For What It's Worth – Buffalo Springfield
Disc 2:
Don't Think Twice It's Alright – Bob Dylan
Piece Of My Heart – Janis Joplin
Magic Carpet Ride – Steppenwolf
Tell The Truth – Otis Redding
The Letter – The Box Tops
Bad Moon Rising – Creedence Clearwater Revival
Soul Sacrifice – Santana
Okie From Muskogee – Merle Haggard
The Thrill Is Gone – B.B. King
Psychedelic Shack – Temptations
Ohio – Crosby, Stills, Nash & Young
Get Together – The Youngbloods
Gimme Shelter – Rolling Stones
Tail Dragger – Link Wray
America The Beautiful – Ray Charles
What's Going On – Marvin Gaye
Bridge Over Troubled Water – Simon & Garfunkel
Let It Be – The Beatles
Funding is provided by:
and members of


Jonathan & Jeannie Lavine • Diane & Hal Brierley • Amy & David Abrams • John & Catherine Debs • Fullerton Family Charitable Fund • The Montrone Family • Lynda & Stewart Resnick
The Golkin Family Foundation • The Lynch Foundation • The Roger & Rosemary Enrico Foundation
Richard S. & Donna L. Strong • Bonnie & Tom McCloskey • Barbara K. & Cyrus B. Sweet III • The Lavender Butterfly Fund
A Production of Florentine Films and WETA Washington, D.C.