THANK-YOU TICKETS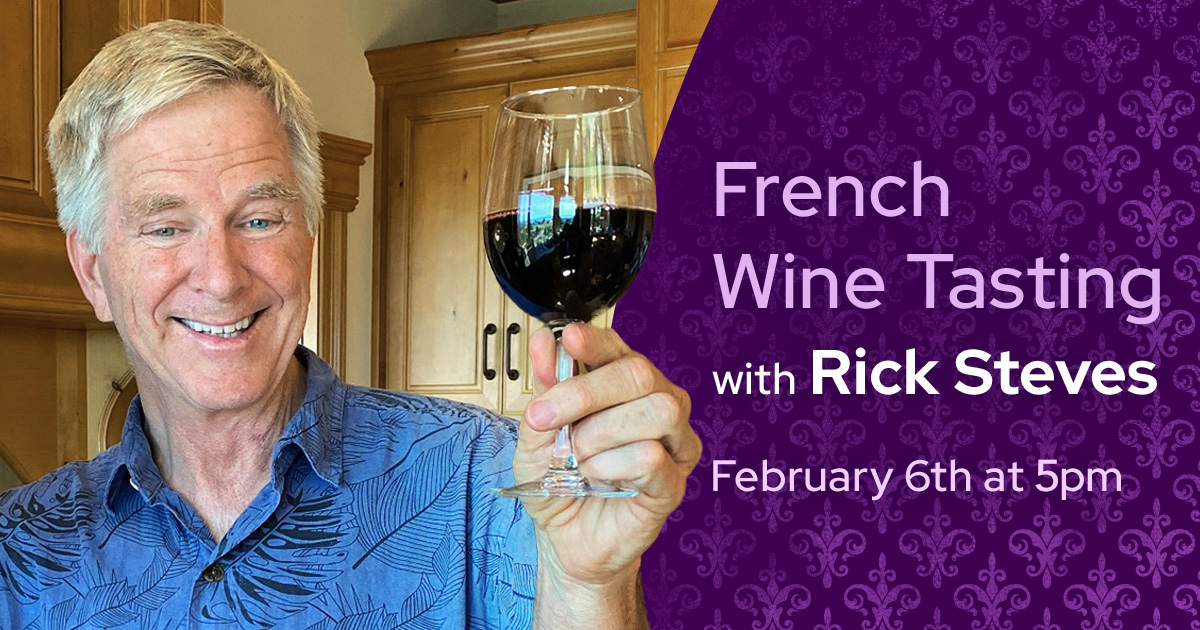 French Wine Tasting with Rick Steves
Virtual event on Zoom | Tuesday, February 6, 2024 | 5:00 pm |
get Zoom
Calling all wine enthusiasts and world travelers! Whether you're a seasoned connoisseur or just beginning your wine journey, you do not want to miss this enchanting evening with world traveler Rick Steves.
He will share his passion for travel and wine, guiding you through a handpicked selection of exceptional French wines from the most celebrated vineyards. Immerse yourself in the culture and distinct flavors of each region as you sip and savor alongside fellow wine enthusiasts.
Rick Steves and a sommelier from our friends at In Good Taste will guide you in a tasting of different French wines. You'll learn the art of wine tasting with the fundamental five S's: see, swirl, sniff, sip and savor. Sip along and learn something new about the wonderful world of wine!
This event makes a great gift! We invite you to attend yourself, and give this wine tasting experience to the wine lover in your life.
Your ticket includes:
6 mini bottles of wine (enough for two to taste) that will be shipped directly to your door
Access to the virtual tasting led by a sommelier alongside Rick Steves
75 minutes of wine education and Q&A
Access to the recording of this French Wine Tasting event for 30 days, so you can attend whenever it works for you!
Please note: Kits cannot be shipped to Canada and the following states: Alabama, Alaska, Arkansas, Delaware, Kentucky, Mississippi, Rhode Island and Utah.