I've often asked myself what trajectory my life would have taken had I never been introduced to Channel 12 or Teletunes.
I was a moody and dramatic child who sought solace over the airwaves, retreating in my room for hours on end with a hand-me-down TV (aluminum foil wrapped around the rabbit ears for the best possible reception). Admittedly, at that age, I put on airs – pretending to be far more of an intellectual than I actually was (I still tend to do that… oh imposter syndrome, you're so funny)! PBS became my gateway for a wealth of discoveries. I could tune out the world at large and stumble into infinite worlds on KBDI-TV 12.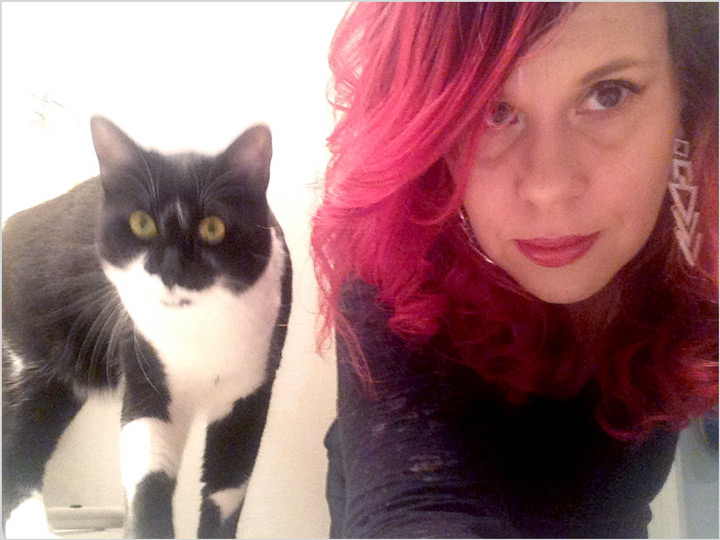 Travel shows and documentaries allowed me to edge outside of the narrow streets of Edgewater to a broader perspective. One of my very first crushes was Carl Sagan and while watching Cosmos I actually learned a thing or two while swooning. The overnights provided classic public domain movies which gave me an appreciation of foundational cinema. Dr. Who allowed me to travel through dimensions and The Twilight Zone reruns scared me enough to stay up late at night to catch the one of the greatest catalysts for change in my life – Teletunes. One of the longest running music video shows in the nation, produced right here in Denver.
"What is this strange magic" I yelled as I finally dialed in the fuzzy reception, hitting the side of the TV for good measure and nothing had ever come into clearer focus! The very first time I saw Teletunes my eyes and heart transfixed, falling utterly and undeniably in love with this portal to music and oddities my young brain couldn't even comprehend! Video after video it became a lifeblood and then The VJ cut in! Obviously, the coolest people I had ever seen in my life were there talking to me! Like a long-lost friend casually discussing all the wonderful happenings in Denver!!! "WHAT?!"
It became my ritual – soaking everything in, and memorizing the broadcast schedule so that I never missed an episode. Through this bright beautiful beacon was an immersive musical education unfolding. One very important distinction to make is that Teletunes pre-dated MTV, and when MTV launched it was not accessible to the masses as of yet. Cable TV was an expensive luxury most working families like mine could not afford, and from its very humble beginnings, Teletunes was a haven for all to enjoy.
As the years progressed, I left the safety of my room and the glow of late-night public television to enter the world as an angsty teenage hurricane with a ravenous appetite for all thing's music related. The Denver underground back then was something to behold… edgy, electric and encompassing. My education continued with frequent trips to Wax Trax, Fashion Nation, and Rock Island with Teletunes there every step of the way.
Overly-caffeinated on Muddy's coffee and that beautifully naive and blind ambition afforded to youth, I convinced myself to enter the fray and started a slew of punk bands – arming myself with only three chords and a message I felt I needed to scream in many instances. Entering into the local music community, I was embraced, supported and inspired. I still look back at those years with great fondness, and the most formative education I have ever received. This was not my thought at the time, but upon reflection I realized that my hyperfocus on my musical pursuits left little room for adulthood to be considered as an option, let alone a career path, so I drifted happily into the unknown.
At some point there was a call for Teletunes VJ auditions, I told myself that if I could ever be fortunate enough for the opportunity to join this elite team, I could die happy (I still feel that way). Kids, dreams do indeed come true! I was enlisted as one of many hosts for a several-year run and that was the moment I went from a wayward punk kid into a passionate public media advocate.
Flash forward to the present, I have spent most of adult life here at PBS12 in so many different capacities I've lost count. My childhood love and respect for this station is woven into the very fiber of my being and I am so proud to have been able to grow in several professional capacities along the way.
What has kept me enthralled all these many years is the station's commitment to community and to local music. To anyone that will listen to me reminisce and ramble on knows that Sounds on 29th is an homage to Teletunes and the continuation of a very illustrious Colorado music legacy. We are incredibly honored to be able to showcase the immense talent that our state has to offer and the creative community here is one of the most dedicated, compassionate and resilient groups of people I have ever been blessed to know.
The years have ticked by and I still begrudgingly "adult" but at heart I will always be that punk kid, sitting in front of an old rabbit eared tv in love with her local PBS station for so many reasons.