Back in March 2020 our post punk geek rock joke band Bolonium was so stoked to be playing our first-ever headlining gig at the Hi-Dive! (one of the raddest venues in Denver and owner Curt Wallach) with our buddies "Gort vs Goom" and "Damn Selene." Our drummer Bonnie Finley even made us a cool-looking 80s poster for the event. Remember concert flyers?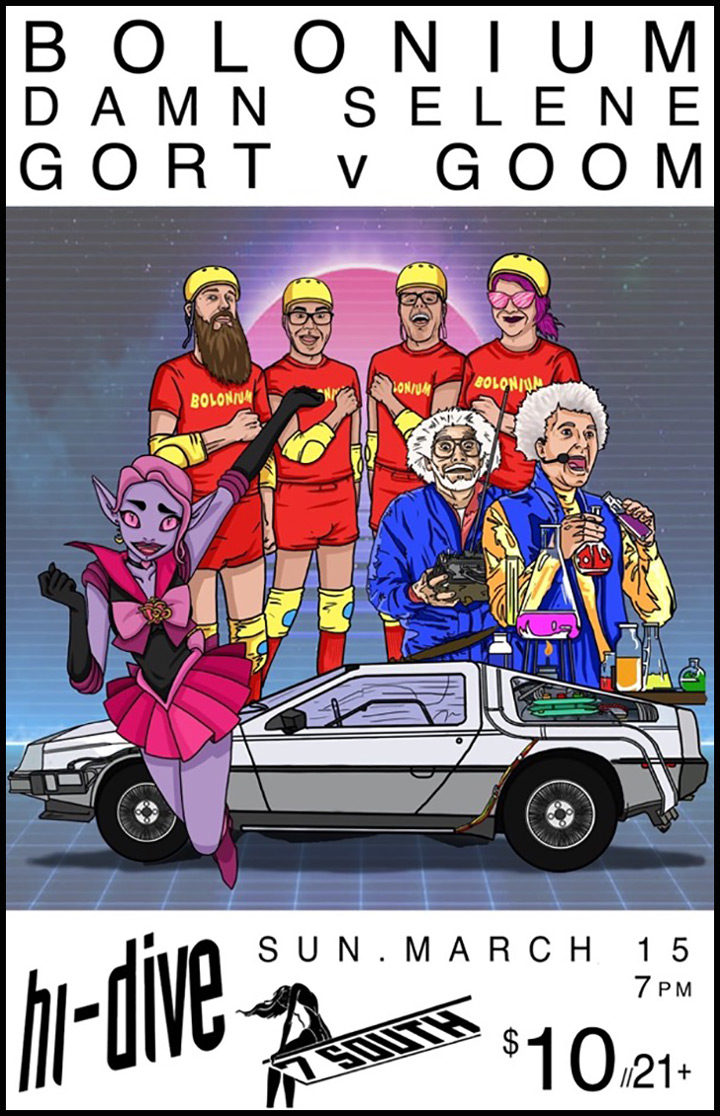 DUNN! DUNN! DUNN! Then the world shut down as you all know by now… but speaking to the folks still living in the past – the 2020 pandemic happened!! So, we had to cancel the gig and we were all very bummed – but safe! LIVE music as we knew it was forever going to change.
Bolonium was never meant to be a live performing band. We started off just wanting to make making silly music videos, Heck we even won Westword Best of 2020 Music Video series for our album Snacktacular, but we feel in love with performing LIVE and we were just starting to get somewhat good at it (so we're told), even landing a gig on SOUNDS ON 29TH. WOW look mom we're on TV!!! Needless to say, we did not know where to go with our band from here.
SOUNDS ON 29TH "Bolonium & Piper Shepard"
"We need to get away from ourselves" – let's start making songs we don't even need to worry about playing LIVE and just have some fun experimenting with sounds! We started making new demos remotely which I guess we never even thought about till we were forced to do so… and it started to make us more free to experiment with synthesizers, glockenspiels, and learn more about mixing on our own.
Bolonium's 3rd album Full Of It will be released sometime in 2021 and will be a result of why we think the pandemic is going to inspire all sorts of weird and awesome new music! You can check out our new song "Blink of an Eye" which we performed together live after not seeing each other for months and having to write the song remotely.
So, to end this BOOM BOX blog, I encourage all musicians now to make some noise and even make a music video and send it in to the new SOUNDS ON 29TH music video show! Which is definitely helping and supporting artists to keep producing and take over the airwaves of Channel 12. It's an amazing new show that still brings the music community together after being apart for so long. We even got to compose the theme music.
Till we can all get back together again, get SALT and SGT PEPPERY!
Your pals,
Tim and Richard from Bolonium!