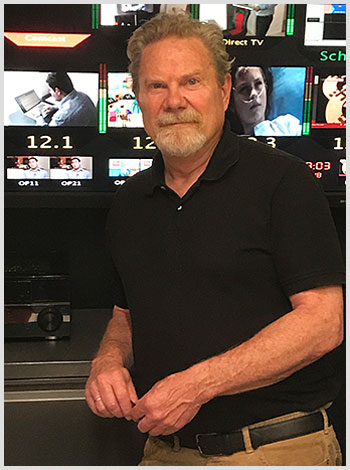 MARK SEEWALD
Vice President of Station Operations
---
about Mark
I was born in Denver, Co and have called it home throughout my life. I have been married – to the same woman – for 40+ years. I have nine brothers and sisters, four children, five grandchildren, and 33 nieces and nephews. As might be imagined, a good part of my life is spent with my extended family. I have worked in television my entire adult career. I spent 15 years in production and editing, shifting gears for a 7 year stint as Senior Manager of Business Operations at DirecTV before coming to Channel 12 in 2004.
---
what Mark does at PBS12
My current title is Vice-President of Station Operations, though for most of my 10+ years here I was the Director of Technical Services. I have responsibility for strategic station planning, particularly in the technical area, and for many aspects of the day-to-day operation of the station. I work with all station departments and staff in one capacity or another, providing support and coordination for a number of station initiatives. Like all of us here, on any given day I can attend a technical design meeting in the morning and be seen cleaning a spot on the carpet in the afternoon.
---
contact Mark
You can contact Mark online, or call him at 303.991.5028.
---
random things about Mark
B.A. in History with focus on Latin America
Love kids, especially the wee little ones
Love to travel, both foreign and domestic
Favorite TV series: The Wire
Favorite dramatic movie: Rumble Fish
Favorite comedy movie: Trading Places
Favorite book: One Hundred Years of Solitude
I LOVE Denver and Colorado
---