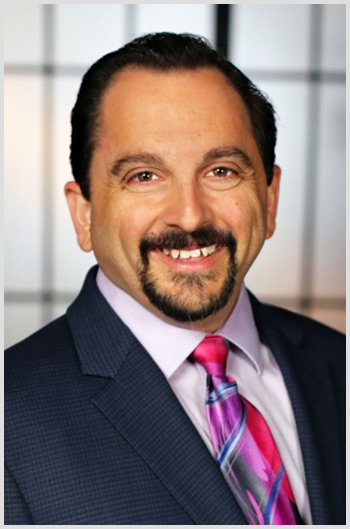 DOMINIC DEZZUTTI
Station Manager
---
about Dominic
I am one of those rare Colorado natives, born and raised in Wheat Ridge, Colorado. And yes, I am a proud Wheat Ridge High School Farmer! I even stayed in Denver to get my degree at Regis University. I started my journey with PBS12 way back in 1996 as an intern for this little program called COLORADO INSIDE OUT. They haven't found a way to get rid of me yet!
---
what Dominic does at PBS12
Like all PBS12 folks and really all non-profit employees, I have a diverse hat rack. As Station Manager, I have the distinct honor of helping our magnificent team pull off the wonders they make happen on a daily basis. I oversee the content we provide both via broadcast and via our digital platforms. I host and serve as Executive Producer on COLORADO INSIDE OUT, and when it's election season time, I host COLORADO DECIDES, our longtime election debate series we do with CBS4 and NewsradioKOA. I work with our award-winning production department on new ideas and concepts, and I also have the opportunity to work with a wonderful content team that works very hard to bring our viewers fresh perspectives, both locally and from around the globe!
---
contact Dominic
You can contact Dominic online, or call him at 303.991.5030.
---
randomness
I love trivia, especially movie and TV trivia. My crew knows better than to try to stump me on anything from the 1980's. I had nothing to do back then and watched an embarrassing amount of TV.
Carbondale, Colorado is a little slice of heaven that I visit with my wife every chance we get.
My favorite book is

The Veteran

, by Frederick Forsyth. It's a collection of five very diverse short stories that all find justice in very creative ways.
Cartoons play a major role in my life. From Bugs Bunny to Pixar, if it's drawn, I'm drawn to it.
The best Chile Rellenos in the world are served at Rancho de Chimayo in Chimayo, New Mexico, and the best Tiramisu in the world is served at Mike's Pastry in Boston, MA, just in case you were wondering.
One of my favorite pieces of advice is this, never wrestle with a pig, you both get dirty, and the pig enjoys it.
One of the most important things I learned from my Jesuit education is that to truly lead, one must serve others.
---