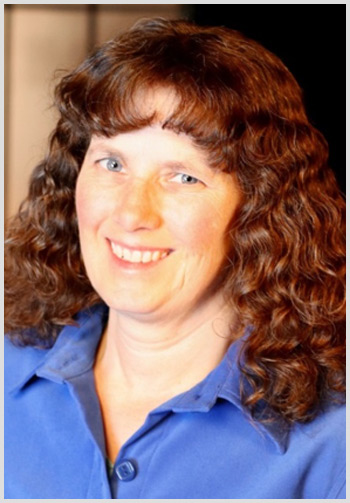 ANDREA METZGER
Membership Gift Coordinator
---
what Andrea does at PBS12
Mostly what Andrea does at PBS12 is to select and order all of the thank-you gifts (premiums) offered during the station's on-air membership drives. She also does a lot of behind-the-scenes work connected with premiums – making sure the gifts look good on television, that they are described accurately on the website, and persuading the computer to send the right gift to the right person – that kind of thing.
---
more about Andrea
Andrea is a Colorado native, artist and activist who earned degrees in fine art from Red Rocks Community College and in graphic design from the Colorado Art Institute. She had worked for several years in the graphic design field when, between jobs, she eagerly accepted a temp agency assignment at her favorite upstart PBS station. This led to the opportunity to join the PBS12 team in 1999. She is active in Denver area vegan and animal advocacy organizations, and enjoys gardening, reading, road trips, and DOCTOR WHO.
---
random facts
Andrea painted the ocean and rainforest mural (now replaced) that was on the original Northwest Denver location of Planned Pethood Plus (of "Dr. Jeff, Rocky Mountain Vet" fame). She also designed PPP's logo.
---